14 October 2021
Posted by:

Twissen

Category:

Travellers
The report "Monitoring Sentiment for Domestic and Intra-European Travel – Wave 8", published by the European Travel Commission (ETC) in September 2021, highlights a high travel sentiment, with 68% of Europeans planning to travel between July 2021 and January 2022; in fact, 54% of them are more optimistic and confident thanks to the vaccine and the EU digital COVID-19 certificate which is contributing to the increase of bookings.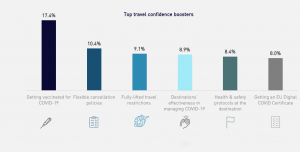 Figure 1. Question n.3 "Which factors will make you feel more confident to start planning a trip in the next months within Europe?", Top travel confidence booster, from MONITORING SENTIMENT FOR DOMESTIC AND INTRA-EUROPEAN TRAVEL – WAVE 8, slide 39
Recommendations for destinations:
Destinations should maintain their focus on countries that top the vaccination uptake list and on age groups with a high share of fully vaccinated consumers.
Destinations should further enhance strict health & safety protocols and highlight their positive performance in limiting the spread of COVID-19 in response to travellers' acute concerns about destinations' COVID-19 case levels and effective management of the pandemic.
With increasing interest in road trips and in outdoor holidays, destinations could co-create themed intra-regional car routes based on visitors' interests to help disperse visitor flows and build inter-regional tourism partnerships.
Responding to Europeans' taste for 4-6-night city breaks, urban destinations can promote indepth experiences, such as local cultural events, multi-day workshops and day trips to nearby places to attract longer stays that result in greater economic contributions
Recommendations for businesses:
Businesses could offer early-bird deals for Q4 2021 that focus on driving-distance audiences and that have flexible booking terms.
Businesses catering for families should highlight their offer as a way to spend quality time together and re-connect, while businesses focusing on couples should spotlight romantic leisure time and enjoying life in a relaxing environment.
Hotels should focus on short booking windows, as 44% of 'early-bird' travellers have chosen where they want to go but have not yet booked their accommodation.
Utilising unsold room inventory through negotiating with carefully selected content creators could be a way for independent hotels and resorts to further communicate their brand, provide engaging content and drive direct sales.
In response to declining interest in air travel, aviation stakeholders should promote last-minute deals, flexible cancellation policies and the strict implementation of health & safety protocols at airports and in-flight
The report highlights that the top 3 factors boosting travellers' confidence for the next two months are getting vaccinated, pre-travel COVID-19 tests and destinations' effectiveness in managing COVID-19.
Download the ETC's report here.