Travel & Tourism is still a safe sector for the global economy
Tourism is still one of the leading sectors for the global economy, registering surprising results and a uninterrupted growth. As reported by the latest UNWTO's World Tourism Barometer, international tourism arrivals globally grew by 6% yoy in the January – April period, with 369 million overnights.
UNWTO reports the notable performances registered in some regions, in particular Middle East (+10%), Africa (+8%), Europe (+6%), Asia and Pacific (+6%) and America (+4%). Europe, particularly, is registering interesting recover results, in spite of the continuous terrorism attacks that threatened some of the most popular destinations. Mediterranean Europe's arrivals grew by 9%, compared to 1% same period last year. The most surprising region, though, was Eastern Europe, which grew by 4% compared to +0% last year. One of the causes of this increase could be the growing interest of tourists towards alternative destinations that have a similar tourism offer to the ones affected by international terrorism. Norther Europe grew by 9%, compared to +7% in 2016.
In Asia, Southern regions reported the higher grow rates, +14% compared to last +9%. On the other hand, North Eastern region registered a moderate growth, namely +5% compared to +9% last year.
Above all, the most performing regions were Norther Africa (+18%) and Middle East (+10%), reporting a fast rebound compared to –4% last year.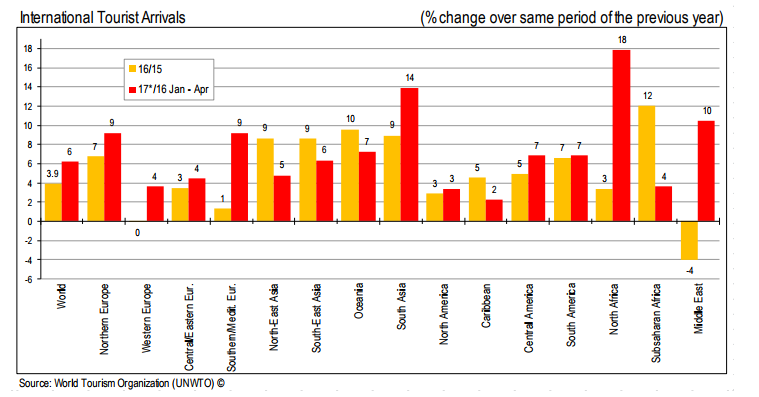 Source: UNWTO
Middle East is a very interesting case, as reported by Forbes Middle East. In fact, this region was one of the most popular tourism destinations, and rapidly declined. According to Forbes, one of the reasons that led to the present growth is the unceasing effort of tourism players to promote these regions to international tourism flows, also by investing in the accommodation sector, enhancing connections with Asia and by facilitating visas.
MEMO – Middle East Monitor, reported that one of the Countries that is leading the Middle East and North Africa (MENA) is Tunisia, where international tourism arrivals grew by 29,3%. Its main origin markets were France, UK (despite travel limitations imposed by Government) and Russia.
UNWTO reports that previsions for the following period, until August, are positive, considering the recorded results and the summer season.
At Twissen we observed that, once again, the Travel & Tourism industry is a leading sector for the global economy, registering increasing results in spite of the uncertainty period that is now affecting all the most popular tourism destinations. New tourism products, promotion and desire for recovery are bringing stability also to destinations that suffered from the complicated international scenario.