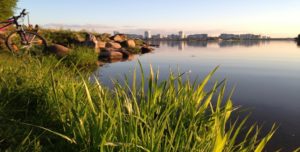 Belarus, EU invests to enhance the tourism sector
Even if by now it has a minor impact on the Country's economy, the tourism sector in Belarus registered growing results if compared to the past years. As underlined in the World Travel & Tourism Council's "Travel & Tourism Economic Impact 2017", in 2016 tourism generated a direct contribution of 0.78bn euros (BYR 18,040.7bn) to the Country's GDP, representing its 1,9%, The WTTC expects a moderate growth, up to 2% of GDP in 2027. The total contribution, including the indirect and induced ones, was 2.4bn euros (BYR 56,068.0bn), namely 5,9% of GDP. As reported by Belarus News, the main tourism flows towards the Country come from Russia, but there is a growing from German, Polish and Italian tourist.
To enhance its tourism competitiveness, Belarus recently started cooperation agreements with Latvia, in order to strengthen the collaboration and the mutual help in sectors which are directly linked to tourism, as the transportation system. A further collaboration was announced by the Government during a meeting with the UNWTO. Taleb Rifai, Secretary-General of the UNWTO, underlined the growing potential of this Country as a tourism destination, and affirmed the willing of the UNWTO to support the Government to enhance its visibility and attractivity. Further cooperation is projected with China, to increase tourism flows towards Belarus, and with Spain, with an agreement of tourism cooperation.
Belarus has not a proper national plan for tourism. Notwithstanding, the Country can count on a more than 1.5mn euros project called "Support to the Sustainable Tourism Development in Belarus" financed by the European Union, which includes 5 "key" regions of the Country and several workshops and seminars until 2018, in order to design development and promotion strategies for tourism of the Country.
Belarus News also reports how the improving of some tourism services near the Minsk Airport, such as the opening of many hotels and of car rental companies, improved the destination's competitiveness and the accessibility to the Country for tourists. A further action which is expected to bring benefit to the tourism sector is the abolition of travel visa for tourists from over 80 Countries, including the whole Europe. This concession lasts 5 days and is applied to travellers arriving to Minsk Airport.
The UK Foreign Travel Advice underlines that Belarus is a safe Country, even if it points out to the unpredictability of potential tourism attacks as in many other European destinations.
At Twissen we observed that Belarus is looking for new cooperation agreements to launch the tourism sector, in particular after the past difficult years from a politic point of view. Cooperation with other Countries, along with the support of the European Union, creates room for developing successful tourism products able to increase tourism flows towards the destination.